John Thompson and Holly Leach are a vibrant young couple that has an established, very well respected dressage barn in Gordonton. They import and produce top quality warmbloods and travel NZ and internationally to teach and compete at top level. "Our team here at JHT Equine are all on Platinum Performance. It's important they feel and look amazing, Platinum Performance products like Platinum Equine and Balance help manage that. Why do we think Platinum products rock? * Results, *Research, *No fillers , *All in one bucket, * Scientifically based, * Benefits for every part of your horse. Why wouldn't you feed it?"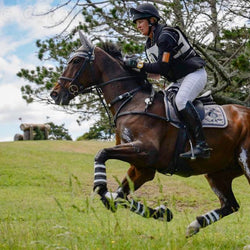 Donna Smith is one of the most sportsmanlike and professional riders on the NZ eventing circuit. Donna is a prolific producer of upper level horses, such as Balmoral Sensation, Balmoral Tangalooma, Henton Executive, Just Chocolate to name a few! Donna's partner Elise has become a key part of DSE and brings a wealth of experience to the team. She is the general organiser and manager of all things DSE plus rides full time and competes. "The A team consist of 4* DSE Tangolooma and 3* DSE Mr Hokey Pokey. Platinum Equine and Osteon have been part of Tangoloomas recovery after what could've been a career ending injury 2015. Donna's hard work and determination to rehabilitate her top horse has seen him come back to again win at Puhunui this year. Plus the young stars; DSE Sunset Pass, and the most talented horses Donna's ever ridden DSE Exuberance are also thriving on Platinum Equine."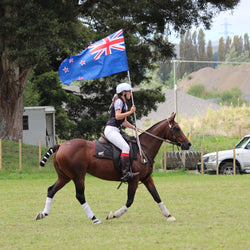 The Tye family has played polocrosse for 40yrs with 3 generations currently playing. Our three daughters are all current NZ international players with Lauren 21 in the U30, Mirren 17 in the U21 and Grace 15 in the U16. "Polocrosse horses have to be at their peek fitness and health to perform well all summer. We play every weekend and unlike Polo we stay on the same horse the full game. We are feeding Platinum Equine and this year the whole team are on it, we can not believe how well they all look and have performed. Our team have been getting numerous best pony awards. The New South Wales under 21 riders voted our two horses best ponies of the test weekend."
Eventing, Show Jumping and Harness Racing "Breeding Sport horses and Standardbreds is a long term expensive commitment, thats why we trust Platinum Performance to help support each horse on its journey to competing in showjumping, eventing or racing. Coming from a family of equine vets we appreciate the importance of preventive care, as well as the importance of cell nutrition. The range of products from Platinum Performance guarantees that every cell is getting whats required, helping us produce sound and sane horses that look and feel great."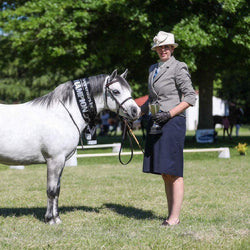 Vale Show Ponies is a boutique stud in Hawkes Bay breeding and producing quality lead-rein & children's small show ponies. "We choose to run a selective few mares which results in a personal connection with the foals we breed. Platinum Performance has added huge health benefits to our show and breeding stock and you can be assured you are giving them everything they need, easily in 1 supplement. We have experienced ourselves the benefits of older ponies being on it throughout breeding season. We love the fact that feeding Platinum Performance to our young stallion "Xtra Gold Of Sefton (IMP AUS)" will give him everything he requires through out the season. You don't need to be the best, the top of your game, or the wealthiest to want the best for your animals and Platinum Performance is a range of top quality products that help you achieve this."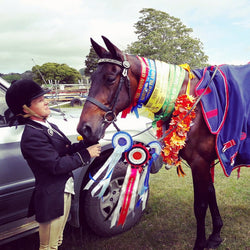 Meet Zoe and her horse O'Sheas (Rusty), a 16yr old Standardbred that raced successfully until he was 12 1/2. Zoe and Rusty have been showing for four years now and during this time have won multiple Champions and Supremes both in-hand and ridden. Rusty is a colic surgery survivor, in fact he went on to win his first race back after his surgery!!! "Last year Rusty qualified and competed at HOY, unfortunately he got another episode of colic and was very sick for a long time after. However he has bounced back and he's on Platinum Equine and ortho-chon II HA to keep his joints healthy."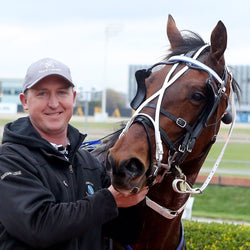 Jamie and Natalie Gameson are based in Canterbury and have been involved with horses most of their lives. Natalie riding equestrian horses, competing in most disciplines and Jamie through his family involvement with Standardbred horses. Jamie has now been training harness horses in his own right for the last 16 years winning several Group and Listed races. Jamie and Natalie also prepare yearlings at their Dunvegan Lodge property and have been preparing yearlings for the Standardbred sales successfully for many years, as well as breeding a number of mares each season. They have their hand in the full process of producing a race horse, showing a real passion for their industry. Now with their children showing an interest in horses, competing at both Kidz Kartz and in the show ring, the horses look like they are going to continue to be a fixture in their lives for many years to come. "We've been using Platinum Performance products for a number of years now and just love them. They help our sales prep yearlings to grow naturally and by sale day they are glowing. By feeding the Platinum Performance Equine to our race horses we know that they are getting the best product to keep them as healthy as possible and race at their optimum level."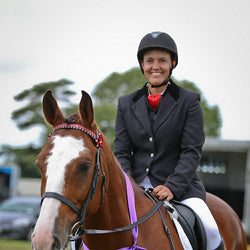 August is a month of endings and beginnings! The hunting season has finished and the horses are turned out. The planning for the Summer season of showing, trekking and bush riding has started! At Crusader Lodge Sport Horses preparation for the team of Rabbit, Neddy and Thunder for the next season has started. At Crusader Lodge, Jane Hunt runs a boutique sport horse training establishment, catering to individual needs. Horses come for schooling and education. Jane also trains Team Crusader Lodge, her own horses who hunt all Winter, trek and compete at shows in the Summer. New to the showing team this season is Rabbit, rising 4 and will be competing in low level show jumping and novice round the ring. Thunder is rising 5, he won two Champion Hunters last year and will be in the Open Round the Ring class this year, and show jumping. Neddy won multiple Champion Hunters last year, this year he adds show jumping to the list of accomplishments. Neddy will also be competing in Open Round the Ring classes! As part of a busy schedule Jane and the team can also be found out trekking, riding "off road" in the bush, and taking part in Cowboy Challenge!! There is a busy Spring and Summer ahead!