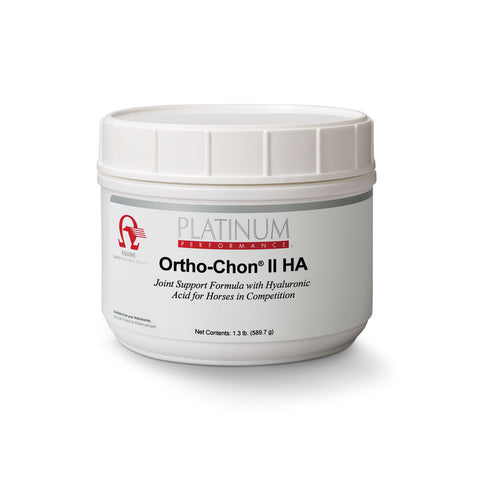 Ortho-Chon II™ HA Joint Support Formula
Joint Support Formula with Hyaluronic Acid for Horses in Competition
Ortho-Chon® II HA is a joint formula recommended for horses in competition. Ortho-Chon® II HA supports healthy joints and also helps maintain the synovial fluid that lubricates the joints. Ortho-Chon® II HA contains hyaluronic acid, as well as cetyl myristoleate, boswellia serrata, and vitamin C. Like Ortho-Chon® II, Ortho-Chon® II HA does not include devil's claw or cat's claw and is in full compliance for horses in competition.
Recommendation for Use:
Administer 1 level scoop (10,700mg) twice daily or as recommended by your veterinarian. Servings based on an average horse weight of 450kg. 
Glucosamine Sulfate 2KCl, Methylsulfonylmethane (OptiMSM®††), Boswellia serrata Extract, Cetyl Myristoleate, Hyaluronic Acid, Vitamin C (ascorbic acid)
††OptiMSM® is a registered trademark of Bergstrom Nutrition.


Active Ingredients Per 1 Scoop (10,700mg)

Glucosamine Sulfate 2KCl (shellfish source)

4,150mg

Methylsulfonylmethane (OptiMSM®)

4,150mg

Boswellia serrata Extract

830mg

Cetyl Myristoleate

150mg

Hyaluronic Acid

250mg

Vitamin C (ascorbic acid)

100mg