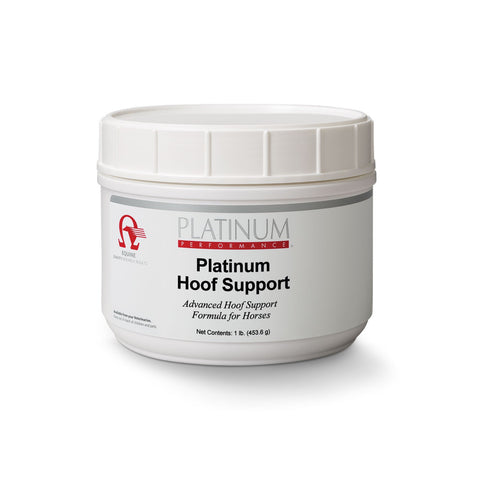 Advanced Hoof Support Formula for Horses
Platinum Hoof Support was designed to support healthy hooves in horses with hoof care needs. Platinum Hoof Support provides concentrated levels of highly bio-available Biotin, Zinc, Manganese, Copper, Cobalt, Methionine, and L-Lysine. Platinum Hoof Support should be used in conjunction with Platinum Performance® Equine for best results.
Recommendation for Use:
Administer 1 level 4cc scoop (2,440mg) once daily. Serving based on the average horse weight of 450kg. 
L-Lysine Monohydrochloride, DL-Methionine, Zinc Gluconate, Copper Gluconate, Manganese Citrate, Biotin, Cobalt Amino Acid Chelate


Active Ingredients Per 1 Scoop (2,440mg)

L-Lysine (min)

800mg

DL-Methionine (min)

350mg

Zinc (min)

55mg

Copper (min)

50mg

Manganese (min)

50mg

Cobalt (min)

950mcg

Biotin (min)

10mg